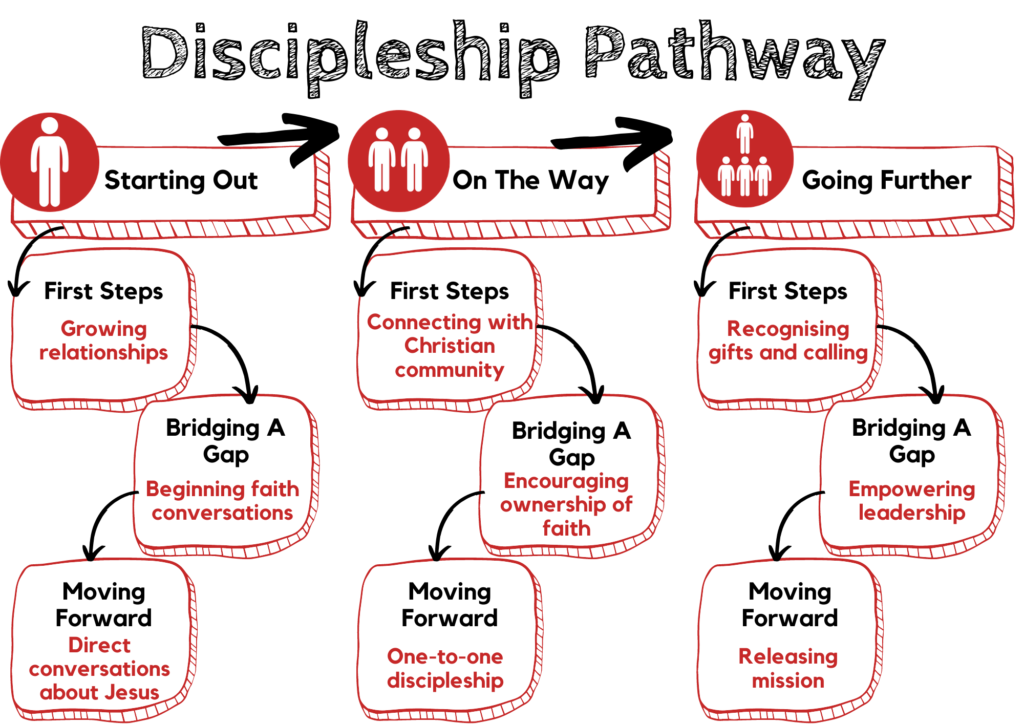 Starting Out
These resources will best support those who have not yet made a decision to follow Jesus. The journey at this marker will encompass people with a wide range of feelings about faith and Jesus from those who are very opposed to those who are "nearly there".
Starting Out: First Steps
The following are suggestions for how to begin to grow personal relationships with non-Christian friends.

Begin by seeking to build relational connection through personal interactions and meetings as well as utilising missional activities hosted by your congregation (ie, Be The Light giveaways, Big Fun Sunday, Pub Quiz, BBQs, Movie Nights, etc)
Resources are available to help you if you want to help to host your own missional activities like toddler groups, quizzes and the like.
Starting Out: Bridging a Gap
These resources are aimed at creating a bridge toward deeper conversation about life and/or faith. Some could be utilised one-to-one and others will work best in a group setting facilitated as a course offered by your congregation or by the wider church community.
Starting Out: Moving Forward
These are resources that will be useful when you've reached a point that someone is open to having conversations intentionally about faith and/or Jesus.

Explore Course – This is a 4 week course designed to introduce someone to the very basics of Christianity. It's designed to work one-to-one or one-to-two so that it can be adapted to the particular person you're connecting with. This is meant to provide a brief, 1-hr meeting over 4 times that gives an easy first step for someone exploring faith. This can be done in person or online.
Alpha Course – This is a longer 10-11 week course designed to guide someone through the basics of Christianity as well as an introduction to faith and the church. This could be a good starting place for a non-Christian if they feel able to commit to this longer course (Alpha generally goes for 2-3 hrs and includes a meal and continues for a few months.). It could also work really well as a next step for someone who has already done the Explore Course and has either become a Christian and wants to learn more or who finished the course and is still interested to consider more about faith.

Alpha is designed to be run for a group of people who share a meal as part of the course time together. It can, however, work one-to-one as needed. This can be done in person or online – though in person is probably preferred.
It should be noted that one ideal way to use Alpha is as a launch for a new small group. With this aim 6-10 people could attend Alpha together and then that group, along with their Alpha teacher, could then continue meeting as a new small group that continues its discipleship journey together.

Pop Up Small Groups around Easter or Advent
On The Way
This group of resources will best support those who are just at the beginning of their own personal journey with Jesus as well as those who may have been around church and/or spiritual things for a while but are still growing in their understanding of what it means to follow Jesus.
On The Way: First Steps
The following suggestions are meant to help you to discern how to encourage continued healthy growth in the person you're discipling.

Begin by identifying where they are gaining spiritual input. It's important that your voice is not the ONLY voice speaking into their lives. As such, you will want to find ways to encourage them to engage with other Christians. The best ways to do this are to help this person to connect with a congregation (one you attend or another if it's a better fit) and to join a small group.
At some point in this part of their journey you may want to help them to consider how they might be involved in the life of the church in appropriate ways. Volunteering and building relationships with other Christians will greatly strengthen their faith and understanding of Christian community.
On The Way: Bridging a Gap
These resources will help connect a new believer to a greater understanding of what it means to follow Jesus.

40 Day Devotions (Coming Soon!) – These short, video devotions are designed to help a new Christian consider some of the most basic questions about their new faith, while also setting them on a path to learn more about God from his Word on their own.

These will be designed to come via email every day for 40 days.  They will be available to be signed up for online and will start from the time that a person signs up to begin receiving them.

Bible App – The YouVersion Bible App is an excellent way to encourage those growing in faith to develop good personal Bible reading practices.  It could be good to demonstrate how to download and use the app and where to find reading plans as well as how to search for Bible verses based on feelings or questions.

One additional opportunity is that all reading plans can be read with another person through the app.  Each day's reading then leaves space for those who are reading the plan together to comment, ask questions and interact.  This would be a great way to choose a plan to read through, like the New Testament, with a growing Christian and be a part of their growing understanding of the Bible.  
Training or assistance in how to use the various functions of the app is available as needed.

Baptism Course – This is a short 1hr discussion with a person who may be considering baptism.  This will often come in the early part of someone's journey of faith, but that is not always the case.  Whether someone is immediately ready to be baptised is not a problem.  This could be a good opportunity just to help someone understand what baptism actually means and it's significance within their own journey.  Simple materials for this course are provided for you to use either one-to-one or one-to-a-few. Typically a CLT leader or pastor would teach this course. 
All In Course – This is a course designed to help people understand the vision and values of Beacon Church and to consider whether they would like to become members of the church.  This course would be suitable for someone to attend at any point along their journey and doesn't necessarily mean the person must become a member at the end.  However, it could be another moment of discipleship along their journey to understand the life of the church and what it means to be a part of a church – even if they are not personally ready to commit.  This course is offered twice a year and is run by leaders within the wider church community.  All materials and teaching are provided.  It could be worthwhile to offer to attend with the person you are discipling if that seems appropriate to where they are in their journey.
On The Way: Moving Forward
These resources are intended to offer further opportunity for more challenging spiritual conversations with a growing Christian.

Chosen & Called: An Ephesians Study – This is a 15 week Bible study designed to be used one-to-one or one-to-two in 1hr meetings. The focus of this study is primarily understanding identity in Christ – how that defines and shapes us. There is some discussion as well about how identity shapes not only who we are but also the purpose God has given us. Both growing and more mature believers could easily engage with this study.

Written materials are available. The study is designed with simple Bible readings, questions with provided answers to assist the person facilitating the conversation. There are also plenty of spaces for open ended discussion and personal reflection as well as practical application ideas.
This study works well in a trusted relationship with some intentional accountability included in the process.
It is especially helpful to use this study as an encouragement for the person you are discipling to consider who they could begin a journey of discipleship with as well, keeping in mind that once they complete the study they could then take it (or any of these other resources) and use them to help disciple someone who's coming along behind them.
I would suggest that a study like this should NOT take the place of a person being connected and engaged with a small group. It works well if it's understood as a season to journey together. The key I would stress is not to disciple someone in such a way that their faith becomes overly dependent on just one person.
Going Further
This group of resources will best support those who are maturing in their faith and coming to a place of ownership of their own journey with Jesus. These will range from people who are just beginning to own their faith all the way to those who are fully committed to Jesus and willing to pursue him above other priorities.
Going Further: First Steps
These suggestions are intended to help you to identify someone who is moving into a place of maturity and commitment within their personal journey with Jesus so that you can help them to consider their personal calling and purpose within the body of Christ. Perhaps the largest growth in a person's discipleship journey is when we help them to begin to lead and disciple someone else.

It will be helpful for you to be aware of someone who is able to take ownership of their own faith and personal growth. Recognising spiritual maturity is a helpful indication of who to lean into for greater leadership and/or responsibility within your group or congregation.
Where you are able, encourage people in this part of their journey to find ways to step into greater responsibility and leadership. This could be in discipling someone else, taking on greater volunteer roles within the life of the church in an area they are passionate about or in taking on leadership such as in a small group or CLT or another relevant area.
Going Further: Bridging a Gap
These resources or suggestions are aimed at helping a mature believer discover how to use their unique passions and skills to further serve God and his mission.

Point them back toward the resources and ideas in the first marker in the discipleship pathway. The best way to continue to grow is to teach someone else. Getting involved in teaching or volunteering in one of the Bridging the Gap resources for non-Christians or helping a non-Christian to go through Explore or Alpha will be greatly beneficial in strengthening and encouraging the faith of a mature believer.
A Jesus-Shaped Life (Available Soon) – This study is designed to be done one-to-one or one-to-two over about 8 or 9 weeks. They don't have to be consecutive weeks as you might want to take more time with the material and leave room for acting on learning. The study draws from the book by the same name and is aimed at understanding how Jesus-shaped living both grows our faith and increases our impact. The study is intended to help guide a maturing believer toward an understanding of how to allow the disciplines of a Jesus-shaped life to open up their understanding of what God may be calling them to do and what mission looks like for them personally.
Going Further: Moving Forward
These resources will help you to support those who are ready, willing, passionate about stepping up into significant leadership or missional calling.

Mission Huddles – These groups will run once a year (roughly) for 6 months at a time. They are designed as intense, focused groups where participants are committed to running fast and hard after the mission of Jesus for 6 months. There is significant focus on prayer, fasting and obedience to the Holy Spirit as the means to grow faith and see how God might lead. These are intentional groups of 2-4 people who are centrally lead by a pastor or another leader in weekly meetings. This would be an ideal place to begin for anyone who has interest to start a new ministry or project or join a CLT etc