Finance is an important issue and we delight in supporting you through your financial concerns both pastorally and practically. However we are a church and want to be clear that

we do not offer financial or debt advice

, but that we are able to direct you to some fantastic practical resources that can help you.
If you ever have financial difficulties and would like practical or spiritual support then contact Beacon Church at

[email protected]

, you may also like to check out our wellbeing page. If you are seeking financial support and advice then we hope that the resources below will be of help.
Finance Webinar
We had a great webinar and the video of the webinar is below.
CAP Course
The CAP (Christians Against Poverty) Course is designed to give you practical tips and support in managing your finances. This course can be used if you find yourself in financial difficulties or just want to plan your finances better. If you are interested in joining the next CAP Course please register your interest by clicking the image below.
The date of July 1st is just to enable us to register interest. If you complete the form we will be in touch to find out what dates and times you are available to join the next course.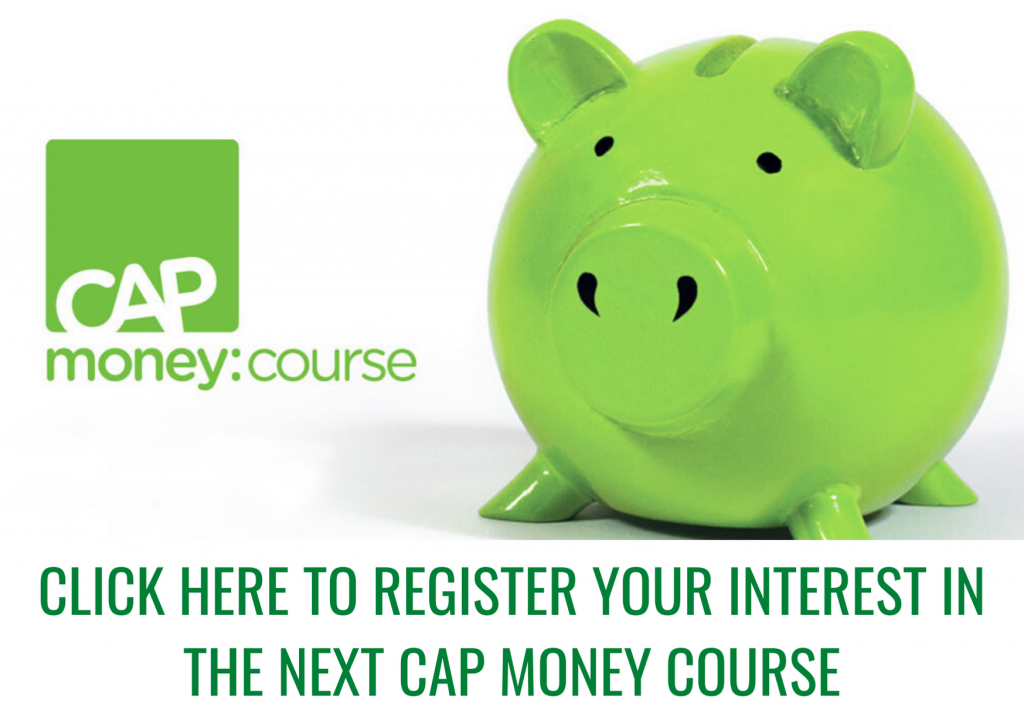 The top three money advice websites that are worth checking out are:
Click the following links for advice on these specific topics:
Local Business Support
The local businesses listed below are able to offer one hours free no obligation advice for anyone. Please quote 'Beacon' when you get in touch.
AMG Financial Solutions (Mortgages) – This is a Stafford based all female team of independent mortgage advisors. They can give guidance on mortgages, how to release equity from your home as well as helping with finance protection insurances such as income protection, life insurance and critical illness. Contact Heather Long or Clare Lawler – 01785 225983 / [email protected] / [email protected]

Willow Financial Solutions – A small financial planning company run by Becky Hammonds who can help you with your pension. Especially if you have multiple pensions Becky can pull all the information together. Contact Becky Hammond – [email protected] / 01782 331158

Employment Law Solutions – A HR firm that support employees and employers that have any struggles in the workplace such as harassment, being asked to work while furloughed etc. Contact Kevin Murphy / [email protected] / 01270 781006
Key Accountancy – A local accountancy firm that gives advice for small limited companies, the self employed and any help you may need information on around taxation and dealing with HMRC. Contact Karen Lewis – [email protected] / 01782 405442

Carthy Accountants – A firm of accountants based centrally in Stafford with a specialism in ex-pat taxation for those overseas as well as all the usual accountancy support. Contact Michael Carthy/Aaron Taft – [email protected] / [email protected] / 01785 248939
Business Resources
If you are a small business owner or self employed, you may find the links below useful
Corona Virus Job Retention Scheme
Government Business Support – £25K and 10K grant that all companies with rateable premises are eligible for even if they don't pay business rates.
Staffordshire Growth Hub part of the Local Enterprise Partnership and have a number of emergency relief grants that they qualify on behalf of Staffordshire County Council
Staffordshire Local Enterprise Partnership (or LEP) is the main grant body in the Staffordshire area for Businesses
Federation of Small Businesses is a membership organisation for any business with a turnover less than 5 million and less than 50 staff. It costs from £179 per year for a small business to join and offers 24/7 365 days a year free legal support including debt recovery, HR documents and guidance, Tax investigation protection and free online banking through the Co-op for businesses.
Staffordshire Chamber of Commerce – Like the FSB but also represents larger businesses and offers all the same services but at a slightly higher price point and employs a local team which the FSB doesn't have. It also has a free business mentoring scheme that any business can access regardless of whether they're a member and receive 12 hours of coaching.